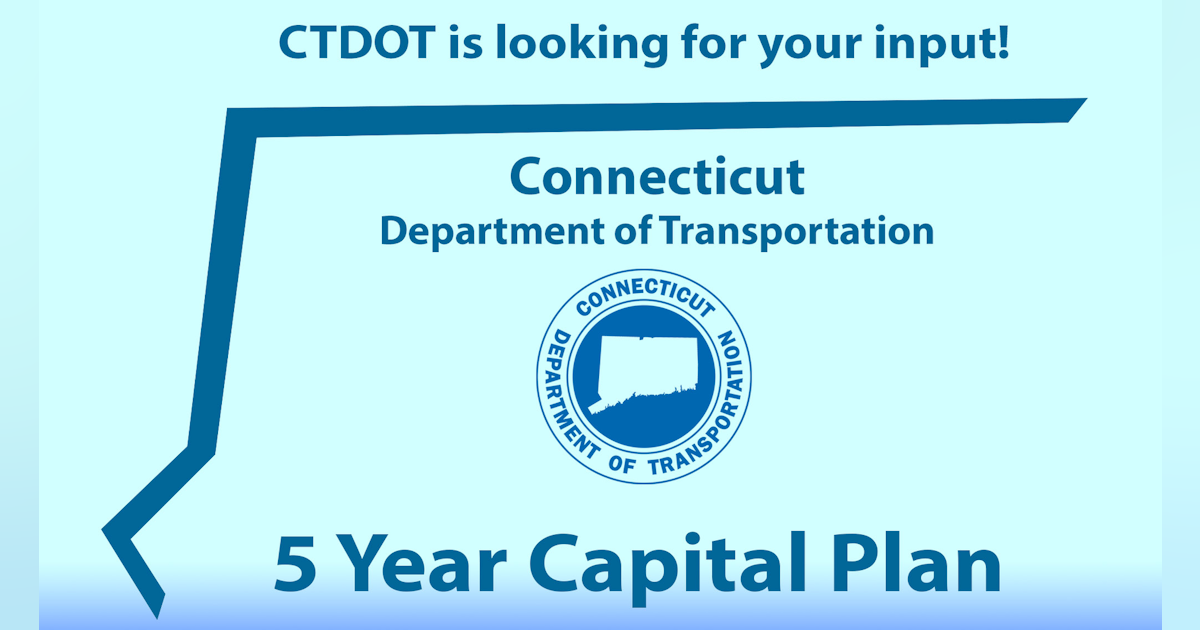 CTDOT Releases Updated Five-Year Capital Plan with Renewed Commitment to Sustainability
A five-year draft capital plan has been released by the Connecticut Department of Transportation (CTDOT) that covers fiscal years 2022 through 2026 with a focus on reducing greenhouse gas emissions, protecting resources natural and community resources and improving the health and safety of residents.
The draft five-year plan includes capital investments in roads and bridges, public transit, and cycling and pedestrian infrastructure.
"Strategic investments in infrastructure, increased access to public transit, and new initiatives that reduce our carbon emissions are critically important to Connecticut's economic growth and the health and safety of residents. Our draft five-year plan demonstrates our continued commitment to safety, fairness and resilience. Coming out of the pandemic, we will do it stronger and with the support we need," said CTDOT Commissioner Joseph Giulietti. "The bipartisan Infrastructure Act is transformational and provides the state with more than $5 billion in federal infrastructure funding over a five-year period. This is a once-in-a-generation opportunity. »
CTDOT plans to use $2.25 billion of total capital program funding in the 2022 federal fiscal year, which began October 1, 2021, including approximately $1.36 billion for infrastructure roads and bridges, $844 million for buses and railroads, and $49 million to support repairs to agency facilities. and improvements.
CTDOT focuses on road and bridge projects that meet statewide mobility and transportation safety needs. Improvements are planned for all of Connecticut that enhance existing infrastructure, from local bridges and intersections to major projects. The CTDOT also operates more than 2,500 traffic lights – more than all other New England states combined – and is embarking on a 10-year program to upgrade the system to reduce transportation emissions and better meeting the mobility needs of all road users.
Public transport continues to rebound from the COVID-19 pandemic, with rail ridership around 50% and bus ridership over 70% of pre-COVID-19 levels. Given trends in commuter needs, such as more telecommuting options, more attention is being paid to service improvement and customer experience projects. As part of Connecticut Governor Ned Lamont's TIME FOR CT program, the funds will be used for track upgrades, bridge repairs and the new rail fleet to create faster, safer rail service in the state. .
In December, Governor Lamont signed an executive order directing the CTDOT and all other state agencies to take concrete action to reduce carbon emissions. Projects included in the CTDOT's draft five-year plan that directly reduce emissions and improve air quality include installing more electric vehicle (EV) charging stations, using solar power at CTDOT facilities, expanding the community connectivity grant program to build accessible sidewalks, crosswalks, and cycling infrastructure, and converting the bus fleet to electric buses.
Members of the public are invited to attend a virtual public information session on the capital plan on February 23 at 7 p.m., and provide input and feedback on the capital plan.
The Draft Five-Year Capital Plan will continue to be refined in consultation with stakeholders over the coming months as more guidance and information is released by the U.S. Department of Transportation (USDOT), particularly around the Bipartisan Infrastructure Act. The final version of the capital plan report is expected to be released by summer 2022.