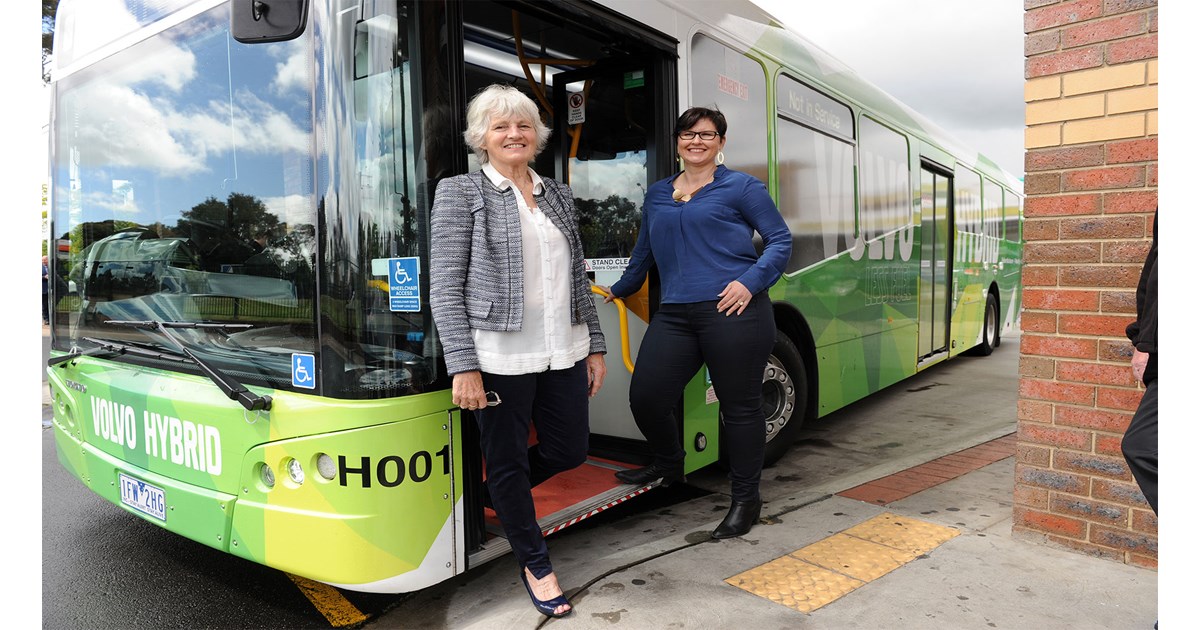 Latrobe Valley Bus Lines reaches 5 year milestone of using Volvo hybrids
Located in one of Australia's energy producing cities and known for its environmentally friendly approach to operations and new technologies, LVBL was the first Volvo Bus Australia (VBA) customer to purchase a hybrid fleet in August 2018 and has since led the way with this sustainable technology.
LVBL recognizes that to meet its commitments to operate a socially and environmentally responsible business, hybrid technology is part of the solution and would therefore be an ongoing investment for them.
Apart from the obvious reduction in exhaust emissions, the fact that the hybrid buses also brought the benefits of reduced noise and improved passenger comfort was a much appreciated bonus for LVBL.
"The focus on sustainability and reducing emissions has been a priority for LVBL since 2015," said LVBL Managing Director Anna Tyben.
"In an Australian first, we have been supported by Volvo and the Department for Transport to trial a Volvo Hybrid Euro 6 route service bus fitted with MYKI. We have received positive feedback from our passengers and drivers throughout the Feedback included how good the vehicle was when it was running and the environmental benefits to the community related to reduced exhaust emissions and operating noise," Tyben said.
The hybrid system allows regional companies such as LVBL to operate greener buses without established infrastructure
These comments are still consistent in 2022, with drivers commenting on the premium ergonomics when using the Volvo B5L S-Charge product, as well as the increased passenger comfort and reduction in air and carbon pollution. noise for residents.
LVBL also experienced the benefits of telematics and integrated area management technology, which along with other hybrid features saw the official introduction of these vehicles shortly after the trial ended. .
"After the trial was completed, we introduced eight Volvo Euro 6 hybrid route service buses through the Latrobe Valley, our first bus hitting the road in 2018," Tyben explained.
"We see hybrids as a step towards full electric mobility. We also strongly believe that hybrids would be beneficial in regional and rural operations where updating infrastructure to charge and power zero-emission buses will be costly. "
Tyben also referred to the academic views of Professor Graham Currie of Monash University's Public Transport Group, who believes that the benefits of hybrid and fully electric vehicles from an environmental and zero-emission perspective – in addition to a passenger experience improved – will see a slight increase in attendance.
In fact, research from Monash University indicates a 1-2% increase in ridership as a direct result of the introduction of zero-emission buses.
Hybrid systems saved 39% fuel and 40% less carbon dioxide
With these environmental benefits in mind and the potential for increased ridership in the Latrobe Valley, Tyben confirmed that switching to electromobility is the next step for LVBL.
"The environmental, technological and economic benefits offered by the B5L S-Charge make the S-Charge product the best alternative to all-electric buses," said VBA Managing Director Mitch Peden.
"As the electromobility movement continues to gain momentum in Australia, it is becoming increasingly clear that hybrid vehicles will play a key role in a holistic and sustainable approach for the transport industry. As beneficial as be fully electric vehicles, we realize that these products may not be suitable for every customer due to infrastructure and location considerations.
"We understand that the full-scale implementation of electric buses will be a gradual journey rather than an overnight transition.
"Volvo's B5L S-Charge is an off-the-shelf product that requires no existing charging infrastructure and can deliver part-time electric buses without operational constraints, playing an important role in the journey to electric transport."
Compared to regular diesel buses, Volvo's hybrids save up to 39% fuel and emit up to 40% less carbon dioxide.
"It's great to hear that the environmental, sustainability and passenger benefits of this hybrid technology could boost public bus ridership in the Latrobe Valley and across the whole Victoria," Peden said.
"It's wonderful that LVBL is leading the way with clean technology and it will be interesting to see the traffic levels in the future."
Volvo's S-Charge Hybrid combines a fuel-efficient 120 kW electric motor, a five-litre Euro 6 diesel engine and Volvo's innovative I-Shift gearbox. Its clever design allows a body with the same capacity as a conventional diesel or gasoline bus and provides an accessible electric solution to the industry where there are few of its kind, explains VBA.