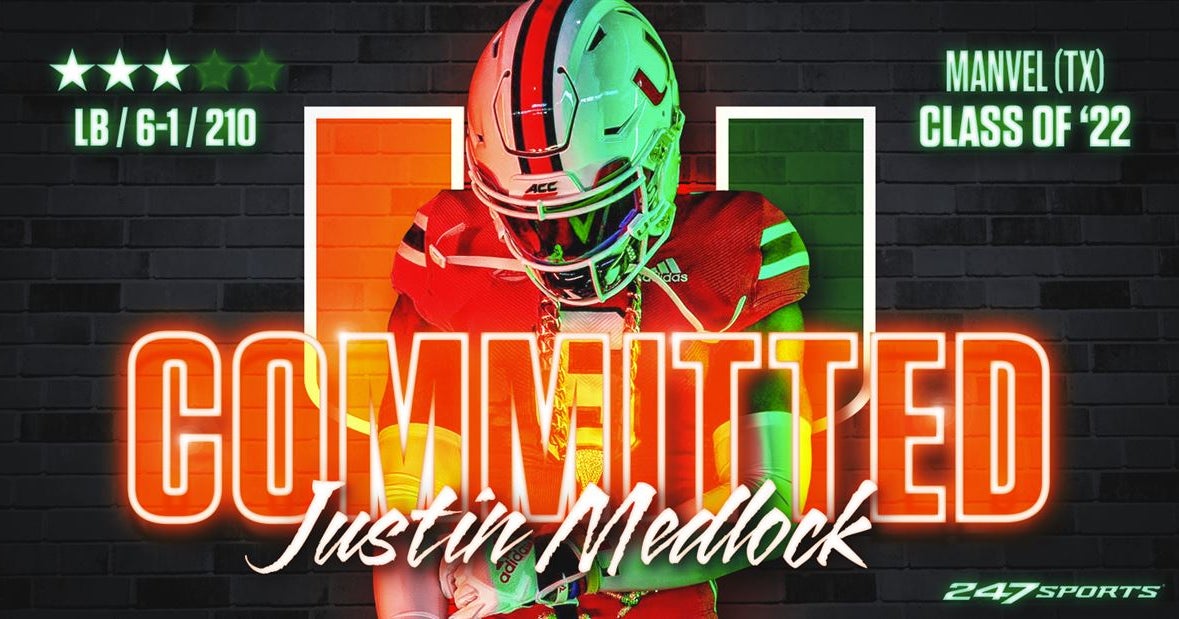 LB Justin Medlock commits to Miami
Miami dove into the Lone Star State on Friday and landed a commitment from the Manvel, TX linebacker Justin medlock, who picked the Hurricanes over offers from Oklahoma, Ohio State, Tennessee, Minnesota and others.
"Miami is a great location there," Medlock told InsideTheU. "I fit into what they want to do in terms of the diagram. Plus, it's a lot of NFL greats, especially on the defensive end of the ball, who have been there, so it would be an honor to play for them.
The 6-foot-1, 210-pound player knew Miami was where he wanted to be after he officially visited the school in early June.
"It helped me a lot because before that I had never even been to Florida," Medlock explained. "They gave me a good tour of the city giving me a good idea of ​​everything there."
Linebacker Coach Jonathan patke was the guy leading the charge for the Houston native.
"He's a really cool trainer. You can tell he cares about you off the pitch, but at the same time he's going to push you. He even told me that whatever school I chose, he would always be in touch and stuff, "Medlock said.
Medlock head coach at Manvel Kevin Hall believes Manny Diaz adds a strong and reliable linebacker to his defense.
"He's a great football player," Hall said. "He's incredibly instinctive, he's a great space player. He understands defensive concepts and covers. One of the smartest football players I have ever had. Understand the defensive scheme almost immediately. Could play indoors or outdoors. He can play the man on a running back. He can play the cover of a man. He'll hit you in the mouth. He has pretty much everything you want in a linebacker. The kind of linebacker you need in football today.
Medlock, who will sign up for Miami in January, only played three games as a junior before undergoing non-major knee surgery that kept him out of the rest of the 2020 season, but harvested 117 tackles in his first year as a starter for the sophomore Mavericks.
He also comes from a line of Division I college football players. Medlock's father Jason played linebacker at Texas A&M and his older brother Jayce is a tight end at UConn.
Medlock is considered the nation's No.48 linebacker, according to the industry-generated 247Sports Composite.