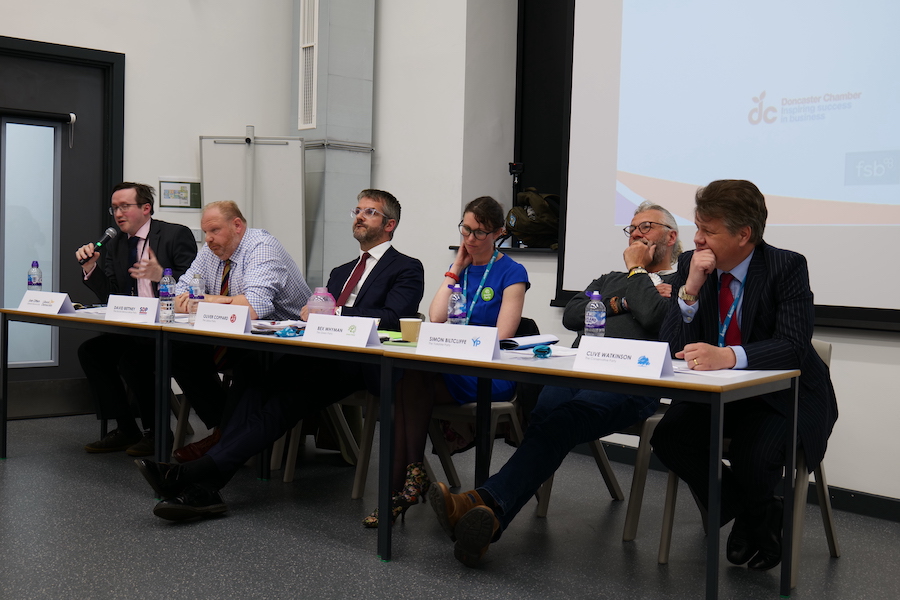 Mayoral candidates talk transportation, 90-day plans and new initiatives
The six candidates for South Yorkshire's new mayor answered questions on Friday afternoon ahead of the May 5 election.
They spoke at the South Yorkshire Mayoral Hustings event, which was organized in association with business organizations including CBI, FSB, Doncaster Chamber, Sheffield Chamber and Barnsley & Rotherham Chamber alongside media partner TheBusinessDesk.com.
Candidates from the Labour, Conservative, Liberal Democrat, Green, Yorkshire and SDP parties set out their positions on key issues including the Green Industrial Revolution.
Moderated by Alex Turner, co-managing director of TheBusinessDesk.com at UTC Doncaster, the candidates shared their views on what should be the priority for the region as it enters its second term of devolution.
Opening the session, Bex Whymen of the Green Party noted that although she is new to the political space, her ambition is to be the "critical friend", supporting businesses and economic prospects in the region.
Whymen said her background as a business and product analyst means she focuses on regional agility, to ensure she can react quickly to respond to challenges and opportunities. She said these are the approaches she wants to work on during the next term as mayor.
Then the bookies' current favorite for the job, Labour's Oliver Coppard, took the opportunity to say that as a proud resident of South Yorkshire he was fed up with the area "being left out and left for account ". However, he was quick to point out that it was not just a lack of support and investment from the central government, but also "what we are doing here".
He explained that he feels South Yorkshire is an area that needs 'ambition' and that's what he wants to bring out if elected as Mayor of the Underground.
Coppard was trailed by his closest competitor in the polls, Simon Biltcliffe of the Yorkshire Party.
Like many within his party who have sought votes in other municipal, local and national elections, Biltcliffe highlighted the opportunity in Yorkshire and briefly mentioned his hope for a "devolution deal in the Yorkshire" – an idea that gave the last talks about leveling. coming from London seems as far away as it has ever been.
Asked about his priorities in the first 90 days if elected, Biltcliffe said he thought there were two things to consider immediately. The first he described as a marketing challenge, to make the region known to those who do not know it as a place to live, work and vacation.
The Barnsley businessman also explained a concept raised in his manifesto regarding the twinning of regions.
"Oxfordshire LEP has agreed to twin with South Yorkshire for expansion," he explained, noting that Oxfordshire offers a number of challenges for businesses looking to expand there. He said that through his initiative, there would be a matchmaking service to connect businesses to enable them to connect on projects and make the region the easiest place "in the country to relocate or s 'to expand".
Watkinson, the Conservative candidate to replace Dan Jarvis, who chose not to contest his seat in this election, explained that his key idea for the role would be to help "navigate people through bananas", which he described as filling in forms and creating a new "business hub."
The hub he described would house "all jobs" and allow candidates to apply in order to solve the trick he says the region lacks when it comes to jobs. He said he believes candidates don't know where to go to find jobs and that through the hub they can find the right people for the right jobs.
One area that most candidates seemed aligned with was the environment and the opportunities it provides through companies like ITM Power. However, SDP candidate David Bettney, a former member of the military and entrepreneur with a business background in the Middle East, said he would focus on bringing manufacturing back to the region, albeit with a bit of a push. – as he said – "controversial" opinion.
"I don't agree with anyone's claims about the timing of net zero. I would say you handle it [shift to net zero] by 2050/2060 you introduce nuclear first and then you introduce all the other energy systems after that. Otherwise, you will have an energy deficit.
He added that if you want businesses to be able to succeed and be globally competitive, you have to "have a grown-up conversation about energy." He spoke in favor of shale gas and noted that only when the energy is sorted can the economic growth the region needs and deserves be delivered.
As the conversation continued, all of the candidates talked about making a difference in transportation.
Biltcliffe said he believed the region needed to make a quantum difference by investing in the right kinds of transport, pointing to the options available in London, from hydrogen and electric buses to options such as Citymapper – a technological means of transport that found in other key cities. but not yet in Yorkshire.
Some of the candidates cited solving the bus problem – a subject that has had mayors on both sides of the Pennines seeking a solution in recent years. Liberal Democrat candidate Joe Otten, a councilor in Sheffield, said buses should be any mayor's "number one priority".
He said, "The reason [buses are the number one priority] it is because A the network is not good enough, it is not a means of transport that you would choose if you had the choice. And the second reason is that it's actually something the mayor has the power to do something about.
Otten added that in reality the mayor needs to look at broader issues such as skills, housing and business support, but it was important to remember that while the mayor will be able to influence them, he or she does not have a "unique power with which you can transform" these areas.
Following other candidates sharing his 90-day plan, Coppard quoted Mike Tyson as saying, "Everybody's got a plan until they're punched in the face."
But looking at priorities and away from business, he said the Combined Authority may need to "reset" some of the relationships it has with key stakeholders, including businesses. Also, possibly playing in front of the public, Coppard cited one of the jobs at the top of his list which would be to fight for GB Rail to come to Doncaster.
As the conversation continued, it was clear that all of the candidates were passionate about the opportunity to be mayor. As Beckie Hart, regional director for Yorkshire and the Humber at the CBI, described it, "there were similar views and differing views, so certainly a lot to think about for the business community."
Hart closed the proceedings by noting that whoever South Yorkshire's next mayor is, it is crucial that he is "absolutely relentless in his engagement with central government and really tries to ensure that he creates the tailwinds for ensure that businesses can continue to invest and grow".