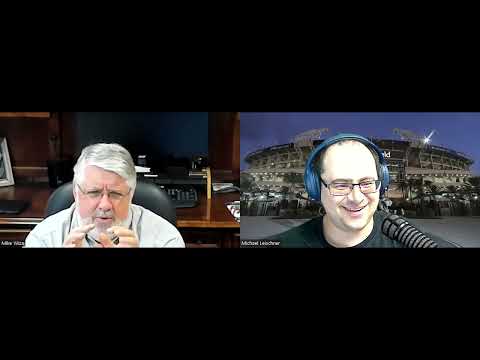 Mayors Monday: Mike Wiza of Stevens Point | WSAU News/Talk 550 AM 99.9 FM
STEVENS POINT, WI (WSAU) – There are more than partisan primaries on the ballot for Stevens Point voters next Tuesday.
Mayor Mike Wiza continued his education campaign this week regarding the city's transit funding referendum, reminding residents of the weight the issue carries in both the short and long term. "It's not just the roads," says Wiza. "It's related to transportation, that's the word that's in the referendum (question). We're not just talking about cars and trucks on the roads."
Because of the use of the word "transportation" in the question, Wiza says any municipal transportation-related project that eclipses the million-dollar mark would require voter approval. This includes all kinds of transport infrastructure owned or managed by the city, such as the city bus station, the municipal airport, or even a new rail spur for the business park.
"Talk about our airport, we are redoing a runway right now. It's clearly over a million dollars. If we have to do the other one next year, it's a transportation project. Our buses, [the cost] a bus doesn't quite cost $1 million, but they get there. So if you buy multiple buses in one purchase order, you'll get there," Wiza said.
Wiza and other city officials have also spent a lot of time over the past few weeks tackling misinformation about the vote circulating on social media. The city has produced several Q&A videos and other materials that are available on the city's website and other outlets like YouTube.
Wiza notes that no matter how the August 9 vote turns out, it won't be the end of the discussion in the city. If the vote were to pass, the city would then have to determine how to most effectively schedule votes for all eligible projects. If the issue fails, the city still needs to address the root cause of the referendum, which is how to redesign Business 51. "It's really tough. I encourage folks, if you have any questions, ask. We want to provide you with the best possible information so that you can make the best decision for you.
Other topics covered by Wiza with WSAU's Mike Leischner include:
Start of the video: planning of the updated master plan of the city
7:20 a.m. – Stevens Point named one of America's Top 10 College Towns
12:10 p.m.- Information on the transport referendum
5:00 PM- Mike and Mike dream of winning the Mega Millions jackpot (Spoiler alert – they didn't)