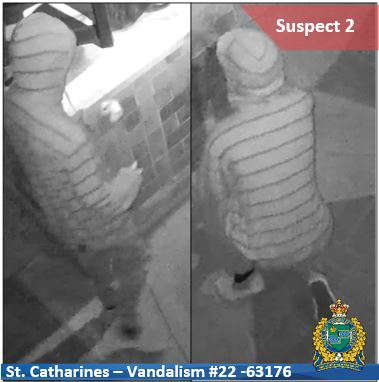 Police search for Fort Two suspects linked to vandalism at Harriet Tubman Public School
Photo Credit: Niagara Regional Police Services
Police are investigating 13 incidents of property damage.
Niagara Regional Police are looking for two suspects wanted in connection with a series of vandalism incidents in St. Catharines.
Investigators say around 10 p.m. Saturday night, two suspects spray-painted racist and homophobic language on the statue and outside Harriet Tubman Public School on Henry Street.
Two school buses, six private cars, three residences and a local business were also targeted.
Collective damages are estimated at more than $5,000.
Detectives located footage of two suspects.
Suspect #1 is described as a medium build male.
He wore light-colored pants, a light-colored sweater, a baseball cap, and black Nike shoes (he used his left hand).
Suspect #2 is described as a thin-built man.
He wore a striped hoodie, pants, light-colored shoes, and a flat-brimmed baseball cap.
Police said the couple were on George Street, Catherine Street, Albert Street, Henry Street and Louisa Street.
The suspects are believed to have traveled on foot or by bicycle.
Residents and nearby businesses are asked to check dashcams, doorbell video cameras or closed circuit security cameras for suspicious activity between June 11, 2022, 9:00 p.m. and 1:00 a.m. on June 12, 2022.
Anyone with information can contact Niagara Crime Stoppers at 1-800-222-8477 or Niagara Regional Police at 905-688-4111 option 3 ext 1009482
Photo Credit: Niagara Regional Police Services