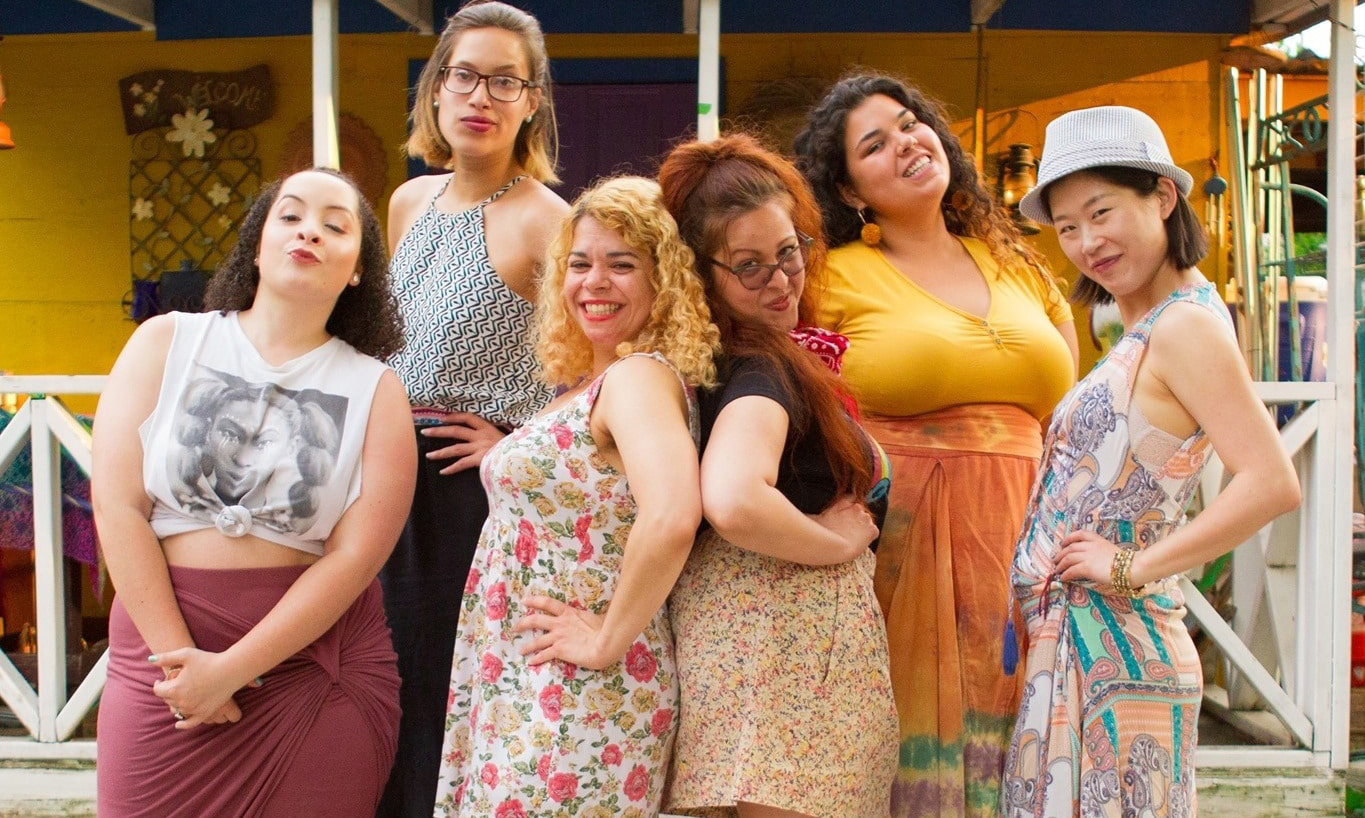 Power Street Theater Power Plants
Over the past ten years I have had the pleasure of watching Power Street Theater continue to grow and become much more than just a theater company. They are a collective of people who are changing the game of what theater has been for so long and proving that it can and should be so much more. Quiara Alegría Hudes, playwright and Pulitzer Prize winner, said it well when she said: "Power Street is building a new table. A Philly — and this nation — desperately needs it.
Power Street Theater has always made theater accessible by bringing it to neighborhoods and communities where it did not exist before, always staying true to its mission of "connecting multicultural and intergenerational communities through the performing arts by sharing original stories that innovate and inspire" (Power Street Theater Mission Statement). They have written, directed and starred in groundbreaking plays such as "MinorityLand" and "Morir Sonyado", which explore issues such as gentrification and domestic violence. Among their many impressive accolades, Gabi was honored for AL DÍA 40 Under Forty and Erlina won the 2022 American Theater Critics Association Award for "Young Money," produced by Azuka Theater.
What sets Power Street apart is that they constantly go above and beyond to deliver valuable resources to the communities they serve. In the past, they have provided free buses to and from select locations for their performances and offered free childcare during performances. Currently, they offer Comunidades Conectadas, a virtual wellness workshop and story circle, Power Talks on Instagram that feature local multicultural artists, and offer free bilingual adult acting classes taught in English and Spanish at the ministry. of West Kensington with their Land and Body (o Tierra y Cuerpo) series.
On the eve of their tenth anniversary in October, I was able to sit down and chat with Power Street Theatre's co-artistic directors, Erlina Ortiz and Gabriela Sanchez.
You don't always see the evolution of a theater company, but I've been going to your events and seeing your plays for nine years now. What I love about you is that your values ​​are so clear in every performance and service you provide. You can see how much everyone is investing and how much you are giving of yourself for the greater good of the community.
Erlina: It's really cool to hear that perspective because we have our tenth anniversary this year and we're thinking about how we want to celebrate and what we want to bring to the fore. I feel like it's something like that…the consistency of our values…even though we've literally updated and changed our values ​​every two years. We always dig deeper and ask, "What do we mean by that?" What else matters to us now that we are growing up? We learn what we need.
What do you have coming up that we can look forward to?
Erlina: The most important thing is the tenth anniversary celebration. It will be in October. We don't have too many pieces in place yet, obviously. But the goal is for it to be in October and for it to be a fun party and something whimsical to come support and celebrate Power Street. We have the Power Talks and social media spotlight going on. All of these amazing artists are sharing their talents with us, I really feel like it's this untapped gem. There is going to be such a great archive showcasing so many amazing artists and someone is going to find it and go down a rabbit hole. I really hope people keep checking this out because it's one of the cool things on social media, it doesn't usually go away.
Barbershop Poetry is an idea that was started by Jose Alicia, Director of Marketing and Social Media, and it will be a Barbershops multimedia storytelling event. Since we've been predominantly female and very female-centric in our work, it's going to be a bit of a male perspective and going into spaces that we don't go into, which is hair salons. And we just had our Comunidades Conectadas Story Circle on June 22. It was a conversation with Rosalind Pichardo about anti-violence and the epidemic of violence in the city and around the world.
After all this time, I don't think I know how the name "Power Street" came about.
Gabby: Power Street actually showed up with a whole different group of performers in Philadelphia who had been to different places. The reality was that the original people who created the name never ended up doing the fundraising or the stuff in person. It was really my initiative at the time, and it was before Erlina really immersed herself. I think she immersed herself because she saw that I was drowning.
Erlina: I think initially we were Power Street Theater Company and then when we first adopted Power Street Theater, that's when we were like, 'OK, Gabi and Erlina are co-directors performances of Power Street Theatre. Before, Power Street Theater Company was something I joined. Now it felt like Power Street Theater was something we embraced together. And then it was also that word "power" and wanting to continue to examine what that meant to us as women of color creating art in an underfunded city. Keeping the name also recognizes people who came before it. Even though they couldn't continue, they were still part of that seed, that idea, that got us to where we are today.
gaby: I think the seedling, for me at least, was after MinorityLand. Like, wow, we did this together. We sold this house with a crowded multicultural audience. We made something out of nothing with heart and courage!
Erlina: This triumph made us feel confident that like "OK, we can actually do this."
gaby: And also that we trust each other to do it. I think trust and camaraderie led to brotherhood. Erlina is like my life partner. I couldn't imagine my life without her because our dreams are so interconnected and yet we are so different. I think people can't understand us sometimes because they're two Latinas, who both occupy space in different ways in our bodies, our languages, and our stories. We showed people that co-leadership is possible, especially as women. Together we can create art and social change that will leave a legacy of caring, understanding and creativity in the world.
Erlina: It was our first baby!
Speaking of babies, Gabi recently had a baby girl! As co-artistic directors, what are you doing to prepare for predictable changes like this?
Erlina: We talked a lot in advance before Gabi went on maternity leave about how to transfer. For me, it was a weird time because, for me, I was so used to bouncing things off Gabi. Like, I never make a last call on anything until I check in with her. Now suddenly saying to myself "I won't be able to see her because she's on maternity leave" was such a change in me. I was like "This is such a weird thing, like, I'm making the call, we're going to do X!" It's going to happen and I'm not going to call Gabi three times to make sure we're all on the same page about it. You just have to go!"
Gabby: Having Erlina in the lead was amazing. Being a new mom hasn't allowed me to be as productive as before and I don't feel like doing things immediately like before. I am now entering another part of my life that requires me to set boundaries even within the company, and I always encourage other staff to do the same. We have learned that less is more and if we really want to preach well-being, we must create spaces where we can be well. Being able to have the agency to prioritize wellness and boundaries as a leader in the arts is powerful.
Over the past ten years, your work and programs have certainly helped to fill a void that has existed for so long, and I am delighted to see what you have in store.
Erlina: What I look forward to is that we continue to have the chance to be artists too. I think Power Street was originally founded because we were artists with no place to be artists safely. I really hope we can continue to tap into that artist side of ourselves and continue to build the community we've built and grow. Both the artistic community and the amazing people we've worked with, but also the community in Philadelphia and beyond.
We have always had "and beyond" in our mission statement. I really hope we continue to analyze and understand our own leadership model so that we can find a way to help others copy it or figure out how to create your own Power Street in your city. In the same way that we see churches as cornerstones of communities, I really wish that theaters and community centers that do artistic work are also seen in this way. It would be really nice if it was normal for Gabi's daughter to have a theater down the street and not have the "Is it professional? Or is it community? It's just a society where neighborhoods can come together and experience art together and talk about what it means and create empathy and connections. So that's the big overall goal. Like, if I'm a little old lady on my deathbed, it would be nice to know that the germ of the Power Street idea led to other germs beyond that.
gaby: Erlina, it was so beautiful. I'm just like, snap snap snap! I'm like, aww, I'm gonna be the viejita right next to you.
Erlina: That's what I want, me and Gabi rocking in our rocking chairs when we turn 92 saying "Oh, Power Street!"
Since my conversation with Gabi and Erlina, SILUETAS, a new musical by Erlina Ortiz and Robi Hager was chosen as the official selection of the National Music Theater Conference at the Eugene O'Neill Theater Center in July 2022. Erlina also co-directed 72 Miles To Go at the InterAct Theater in June.
You can find an abundance of resources and information about all of their amazing programs and productions on the Power Street website, and you can donate to support their year-round programming. Be sure to follow them on Facebook, Instagram and Twitter to access all of their great content thanks to Jose Alicea, Director of Marketing and Social Media!