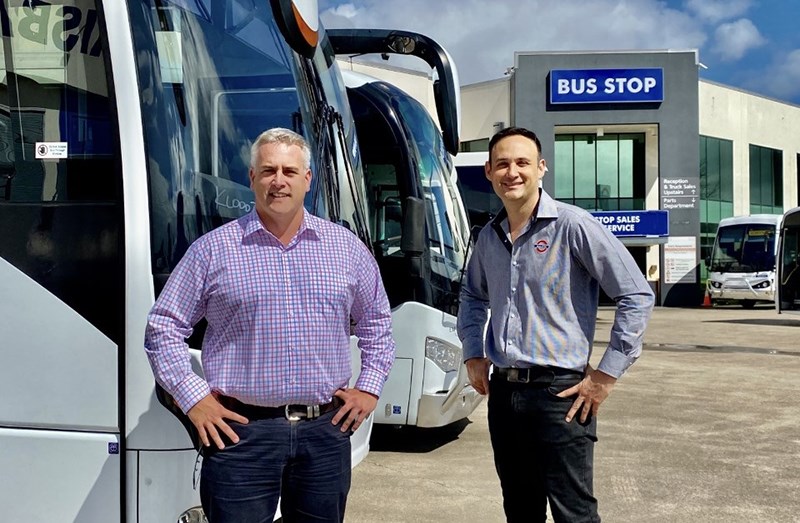 QLD BUS NOTABLE JOINS BUS STOP SALES PRE-ZEB START
---
QUEENSLAND-BASED heavy-duty vehicle distributor Bus Stop Sales and Service has appointed local industry stalwart Martin Hall as managing director, whose experience bodes well for the upcoming rollout of the King Long Zero bus Emissions (ZEB) from the company, it was announced.
Said Hall (pictured left): "I have joined Bus Stop at an exciting time with a number of projects underway, including the introduction of Australia's first all-electric high-floor bus later this month."
Leading the company's new zero-emissions transport division, the appointment comes at a good time with Hall's experience joining the company which expects to receive Australia's first all-electric high-floor bus later. this month, he says.
A well-known figure in the Australian bus industry, Hall joins the Bus Stop team after spending more than a decade in senior roles for South East Queensland's leading government bus operator, Hornibrook Bus Lines , Surfside Bus Lines and Clark's Logan City Bus Service. .
In particular, Hall brings specialist knowledge of the opportunities and challenges of integrating electric buses into a large diesel-powered fleet, having led the design and implementation of Translink's first major electric bus order. in Queensland, confirms Bus Stop Sales.
Additionally, Hall is a respected member of the local business community and is currently President of the Gold Coast Chamber of Commerce and Vice President of the Gold Coast Community Fund, he adds.
"I am delighted to have recently joined the team at Bus Stop to lead our division dedicated to zero-emission transportation," said Hall.
"I joined Bus Stop at an exciting time with a number of well-advanced projects, including the introduction of Australia's first all-electric high-floor bus later this month," said Hall.
"We're planning a major launch of this vehicle at our Rocklea headquarters in February, so it's definitely to watch this space," Hall added.
EXCITING CHAPTER
Announcing the appointment, Bus Stop Sales principal Pete White said Hall was a welcome addition to his family business.
"The transition to zero-emission buses is an exciting chapter in our industry's long history and I'm thrilled to have Martin join Bus Stop's charge in this space," White explained.
"Martin brings significant expertise to this role, having managed some of the largest bus fleets in Australia, and I am confident that this, along with his understanding of the transition to zero emissions, will be well received by the industry," said White said.
As the company points out, the journey towards zero-emission public transport in Australia is well advanced, with state governments recently setting targets for the introduction of zero-emission buses into the fleets of contracted bus operators. .
The Queensland Government recently announced that every new city bus in South East Queensland will be a zero-emission vehicle by 2025, while the NSW Government aims to transition its private fleet 8,000 buses by 2030.
Subscribe to our newsletter
Sign up to receive the ABC e-newsletter, digital magazine and other offers we choose to share with you directly to your inbox
You can also follow our updates by like us on facebook.