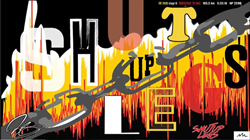 Renowned cycling coach Hunter Allen launches Project FUERZA; Offers NFTs that combine the power of Pro, other data with contemporary art
We've turned a ton of my crazy power data into NFT art, collected from races like the Tour de France, Tour of California, and even my last race, my hour record attempt. The result is quite spectacular and quite unique.

BEDFORD, Virginia (PRWEB)
July 06, 2022
Long considered a guru in cycling circles, particularly for his pioneering work in power training, Hunter Allen is now launching http://www.projectfuerza.com/Project FUERZA: The New NFT Collection Takes Data Graphs biometrics of athletes at specific races, as well as other inspirational materials, and employs world-renowned artists to create unique and authentic NFT artworks that tell a visual and digital story of that particular race. Riders like Peter Sagan, Mark Cavendish, Geraint Thomas, Jens Voigt and many other top pros have already signed up, with many more in the pipeline.
A former professional cyclist, Allen co-developed TrainingPeaks WKO software and led its desktop software team until 2015. He founded Peaks Coaching Group in 1996 and still owns it: now with over 35 coaches and 5 affiliates international, they work with cyclists and triathletes. of all skill levels, running cycling camps and vacations, and offering 300 pre-built training plans, all power-based. Now, thanks to Project FUERZA, he's found a way to use all that science to create cycling-themed art.
Somewhere in each of the NFTs are numerical and/or graphical representations of the runners' actual "fuerza" – power in Spanish – and other metrics recorded during the effort. In addition to the NFT itself, all original NFTs will come with a license to view/use the actual data file (additional discounted copies may not be available), so buyers can delve into the numbers behind thrilling moments such as Cav's victories on the Champs-Elysées. or one of Voigt's legendary breakaway wins, and compare them to their own data, etc.
"I am happy and proud to be part of this project. The Project FUERZA NFTs uniquely combine the power data of riders like me with the artistic imagination of some amazing artists," says Voigt. "We turned a ton of my crazy power data into NFT art, collected from races like the Tour de France, Tour of California and even my last race, my hour record attempt. The result is quite spectacular and quite unique.
Over 1000 FUERZA NFTs are already available for sale on the website, with more arriving every week from an ever-growing list of artists and athletes across multiple cycling disciplines. The cost of each artwork is derived from athlete, race, artist, etc., but they are available in a wide range of values ​​from $100 to millions to appeal to all levels of buyers, from casual enthusiasts to major collectors.
Additionally, for buyers who want an even more personal interaction with their athlete of choice, premium NFTs will come with bonuses ranging from personal video calls to in-person rides with athletes. For example, an NFT sold for over $300,000 will have the option to ride with the athlete on the actual route where the biometrics were created for their NFT (along with other bonuses; conditions apply) . Alpe d'Huez with Geraint Thomas anyone?
FUERZA NFTs will be available for purchase on the OpenSea NFT Marketplace, using your credit/debit card or Ethereum cryptocurrency. The founders are confident that their NFTs should also prove to be excellent investments as their values ​​increase along with cryptocurrency in general.
The idea for these NFTs came from Allen's own artistic ideas for power data during his more than 20 years of analyzing power data: "Many times I have seen the data as art," he says. "Finally, thanks to blockchain technology and our world-class artists, we were able to create these inspiring works of art. Hopefully, buyers will enjoy their rider's art on an LCD screen at home, on a screen of computer or telephone, and will be motivated by the incredible physical power of the athletes and the creative power of our artists.
And for those curious to see their own data numbers as art, the next phase of development will allow consumers to use their own biometric data and inspirations to work with FUERZA artists to create their own FUERZA NFTs. They are aiming for early 2023 to launch this service. Watch the website for updates on this and other related news.
For more information and/or media requests, please contact their reporting agency, SIMBOL Communications: Nic Sims, [email protected] or Scott Boulbol, [email protected]
About Project FUERZA: http://www.ProjectFUERZA.com was created to share the biometric data of professional athletes in a truly unique work of art that represents the runner and the event. The incredible human efforts of the toughest endurance sporting events in the world are commemorated in the FUERZA NFTs; they are meant to inspire and create emotions for all audiences through the imaginative works of art and pure physical exertion depicted in biometric data. Founded by power training leader Hunter Allen, the Project FUERZA team also creates special in-person experiences with runners, exclusively for FUERZA NFT owners, that give unprecedented access to professional athletes around the world. entire.
About SIMBOL Communications: SIMBOL Communications was created to help brands tell true and authentic stories through exposure in a wide variety of media, by developing creative and impactful content. We are also driven simply by our strong passion for sparking people's interest in sports and the outdoors. With over 40 years of combined experience in the outdoor, cycling and fitness industries – as industry professionals and racing enthusiasts – the founders of SIMBOL have all the tools to deliver powerful stories to the good audience.
Share the article on social networks or by e-mail: