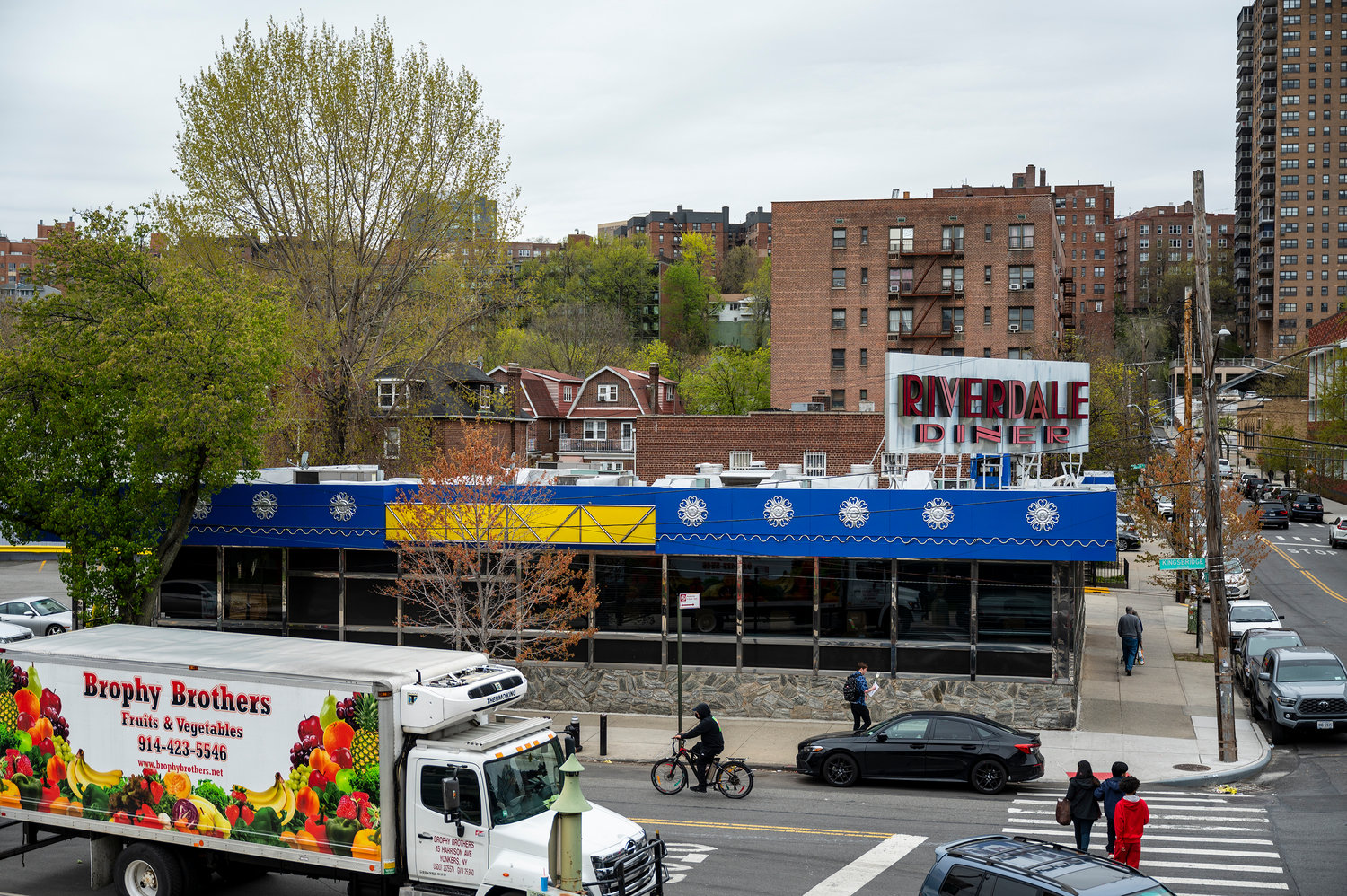 Riverdale Diner still closed, but will reopen | The Riverdale Press
By GARY LARKIN
Kingsbridge's landmark Riverdale Diner remains closed following an early morning kitchen fire on April 11 that injured two Bronx firefighters.
Anyone who has tried to call the restaurant for the past two weeks has only heard an unusual busy signal. Anyone walking to the restaurant at the corner of West 238th Street and Kingsbridge Avenue was greeted by an empty parking lot surrounded by yellow caution tape. An email to owners George and Anna Kaperonis bounced back with an "address unknown" message.
Regular customers have called The Riverdale Press inquire about the fate of the restaurant, which has been around since Lyndon B. Johnson ruled the country as President of the United States.
But there is still hope. A handwritten sign on two of the doors tells patrons to look for a grand reopening soon.
More electric buses are coming to Kingsbridge
Governor Kathy Hochul on April 22, the MTA announced the deployment of 60 zero-emission electric buses at six bus depots serving the five boroughs, including one in Kingsbridge.
These buses will provide service among many routes to the following depots:
• Kingsbridge—Bx3, Bx7, Bx10, Bx13, Bx18, Bx20, M100
• Grand Avenue, Queens — B24, B32, B39, B47, B48, B57, B60, B62, Q59
• Charleston, Staten Island—S55, S56, S74, S78, S84
• East New York, Brooklyn: B12, B14, B15, B17, B25, B42, B45, B65, B82, B83, B84, Q24, Q56
• Michael J. Quill, Manhattan: M8, M9, M12, M20, M21, M22, M42, M50, M55, M57, M66, M72
• Jamaica, Queens — Q3, Q4, Q5, Q17, Q30, Q42, Q77, Q84, Q85
The deployment reinforces the MTA's commitment to equity and environmental justice by prioritizing communities with high rates of asthma and air pollution, Hochul said in a World Day statement. Earth. In New York, approximately 75% of these bus depots are located in low/moderate income communities, and transit bus routes disproportionately pass through these neighborhoods.
"My administration is focused on accelerating our transition to clean energy," Hochul said. "Public transportation has always been critical to reducing emissions and this deployment is a major step toward the MTA's commitment to a zero-emissions bus fleet by 2040.
"New York's progress in modernizing our transportation infrastructure is having far-reaching impacts that contribute to social equity and continue to cement our status as a national leader in the fight against climate change."
Councilman Eric Dinowitz said, "With what we now know about the troubling acceleration of climate change, it's good news that the MTA is looking to do its part with the rollout of 60 new electric buses. This is only a first step towards a 100% zero emissions fleet by 2040, but a critical step. We are in a time of skyrocketing asthma rates in the Bronx, and scientists around the world are pleading with governments and private industry to take these steps to protect the habitability of our planet.
US Representative Jamaal Bowman highlighted the impact this decision will have on the city's and borough's carbon footprint.
"Combating climate change is essential for all of our communities," he said. "Electrifying our transportation system is a critical part of this fight to protect people and our planet, and I believe public transit should lead the way. I'm glad to see the MTA taking real action to reduce greenhouse gases while providing reliable transportation to neighbors here in New York's 16th Congressional District. I look forward to supporting the agency in accelerating its transition to clean energy and leading not only our district but the nation toward a more sustainable future.
Additionally, five of these bus depots will be equipped with new state-of-the-art charging infrastructure to support the MTA's growing fleet of electric buses beginning in the second half of 2022: Grand Ave, Charleston, East New York, Jamaica and Kingbridge. The en route charger at Williamsburg Bridge Plaza will also receive updates. All infrastructure upgrades will be completed prior to the arrival of buses at each depot.
The initiative puts green buses on the roads of neighborhoods that will benefit the most and will accelerate the Authority's progress in reducing carbon emissions from its bus fleet.
The MTA currently has more than 1,300 low-emission hybrid buses in its fleet, including 399 2nd generation hybrid buses, which operate in battery-only EV mode part of the time.