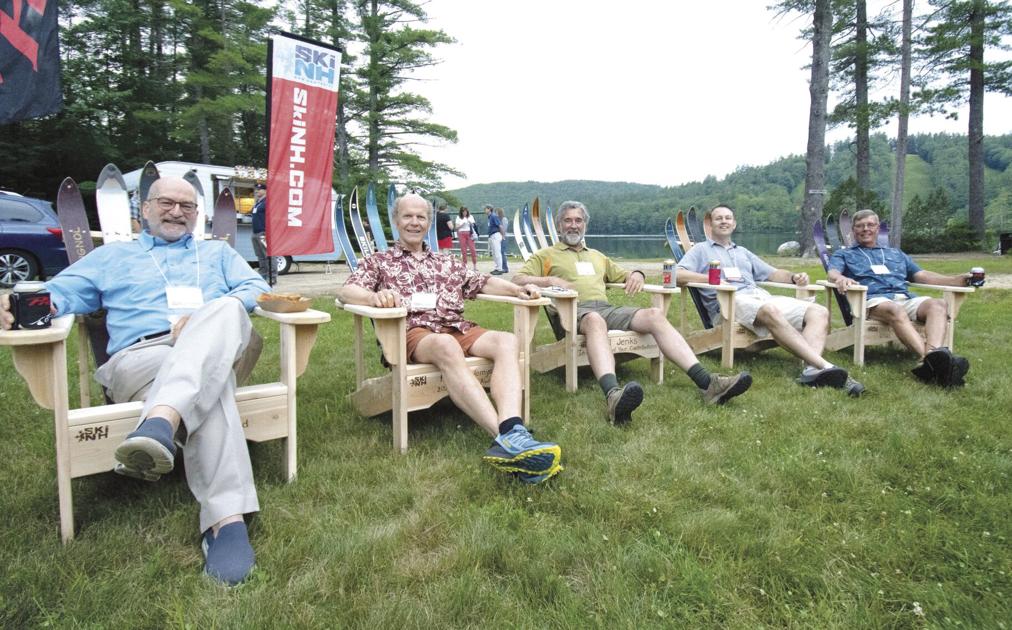 Ski NH rewards individuals with prizes | News from local businesses
By Jessyca Keeler, Special for The Conway Daily Sun
MADISON – At its annual business meeting held July 7 at King Pine Ski Area & Purity Spring Resort, Ski New Hampshire and its board of directors presented a host of individual awards to honor those who have helped the ski industry. New Hampshire skiing to achieve national acclaim.
Ski New Hampshire is the statewide association representing 34 alpine and cross-country ski resorts in New Hampshire.
The Chandler McLane Government Service Award was presented under the big top of Ski NH's Beachside Soiree in Purity Spring; the Whitney Prize; the Merrill Prize; and the Lifetime Achievement Award.
The Chandler-McLane Government Service Award recognizes "an official in the service of the State Government of New Hampshire who has worked hard to serve the people of New Hampshire, has kept people informed of what is going on in the process and everything potential impact, and has been a key player on important issues for the ski industry and for tourism in general.
The Chandler / McLane Government Service Award (renamed in 2018 as Legislator of the Year Award) is named after two individuals, Gene Chandler and Susan McLane (and their families), who have contributed to the ski industry of the State while serving in our state legislature. Past recipients include Congressman Ann McLane Kuster, Senator Chuck Morse, Commissioner George Bald, Representative Henry Mock, Representative Gene Chandler, and then U.S. Representative (now State Senator) Jeb Bradley.
The award this year went to Governor Chris Sununu, who was on hand to receive it.
Kris Blomback, Managing Director of Pats Peak at Henniker and Chairman of the Ski NH Government Relations Committee praised Sununu's efforts to keep New Hampshire's economy running, saying, "A year ago, everyone here today did not know how the ski season 2020-21 was going. to play. There were travel restrictions and distancing requirements, among other difficult elements that could impact ski areas in the state. "
He said that "a planned collaboration has taken place between state officials and members of the ski industry to develop a careful set of practices that would give the skier and public health officials confidence that our outdoor recreation segment could be safely offered. " As a result, NH areas have enjoyed "a strong ski season under a reasonable and safe set of protocols with no escape".
Three former general managers of alpine ski areas have received Ski NH's highest honor, the Whitney Award, which recognizes individuals who have "made an outstanding contribution to the ski and snowboard industry in New Hampshire."
The HH "Bill" Whitney Award was established in the mid-1970s by Betty Whitney in memory of her husband, who owned and operated the Black Mountain ski area in Jackson as well as the slopeside inn which still bears to this day. his name. He has been active in all aspects of skiing and operating the ski area. He was the founder and first president of the New Hampshire Ski Area Operators Association (which predated Ski NH). Former Whitney Award winners are Wayne Patenaude, Thad Thorne, Bob Fries, Werner Wagner, Stan Judge, Bill Currier, Phil Gravink, Dev Jennings, Herb Schneider, Carroll Reed, Tom Corcoran and Governor John Sununu.
This year's Whitney Award recipient was Greg Goddard, Douglas Holler and the late Bob Hoyt, who were recognized for their many years of service to the industry.
Goddard's career in the ski industry spanned almost 40 years at Gunstock Mountain Resort in Gilford. Originally a bartender at the Powder Keg ski area during the 1981-82 season, his financial skills led him to become Director of Finance and Administration in 1988 following a major expansion of the resort.
Ten years and hard work to secure Gunstock's financial position later, Goddard took the helm as the station's general manager. Over the next 22 years, Goddard would oversee a plethora of major capital projects, including a major $ 3.8 million expansion that included new snowmaking and a new high-speed chairlift, expanding the terrain for beginners, including a new 4-seater chairlift.
He also led the resort's transition into a major four-season attraction that included the installation of some of the nation's longest and fastest ziplines and New England's largest aerial obstacle course; this year-round transition culminated with a $ 2.8 million mountain coaster that was added in 2016. During Goddard's tenure, the resort's net worth grew significantly and continues to do so to this day. .
Doug Holler retired in 2020 after 19 seasons as general manager of Dartmouth Skiway at Lyme Center.
Holler oversaw improvements to the slopes that brought them up to international racing standards and dramatically raised the bar for safety, making the ski area a much sought-after mountain for ski competitions, including the Ski Championships of the NCAA 2003 during Holler's tenure.
In addition to these trail and safety improvements, Holler managed renovations to the McLane Family Lodge, which is used for a variety of events in addition to serving as the base lodge for the ski resort.
Bob Hoyt's Whitney Award was presented posthumously to two of his three daughters, Stephanie Hoyt and Amanda Morrill, by 2017 Whitney Award winner Bo Adams.
Coming from the family who had founded and operated Purity Spring Resort in Madison since the late 1800s and then added the King Pine Ski Area in 1962, Hoyt grew in the hospitality industry and his passion for it – especially for the ski industry side of business – was evident during his decades as the resort's general manager.
He spent his life working to create experiences for clients who would come from across the country year after year and devoted countless hours to helping improve and champion the industry by participating in organizations for many years. years such as Ski New Hampshire (and its predecessors, the NH Ski Area Operators Association and Ski the Whites), SnoCountry and the NH Tramway Board.
The Merrill Award, Ski NH's highest honor for contributors to the cross-country ski industry, was created in memory of Al Merrill. Nicknamed the "Silver Fox," Merrill was a cross-country ski coach and director of outdoor affairs at Dartmouth College for almost 30 years. He was a key organizer of many national and Olympic racing events in the 1970s and 1980s. A ski and waxing magician, serving at eight Olympic Winter Games, designer of ski trails across the country, he has been the coach and "Head Tigah" of countless athletes. Past Merrill Prize winners include Thom Perkins, Chuck Broomhall, Cory Schwartz, Cami Thompson-Cardinelli, Len Johnson, Jim Wellinghurst, and John and Nancy Schlosser.
This year's Merrill winner was Howie Wemyss, and former Merrill Prize winner Al Jenks has been honored.
Wemyss became General Manager of Mt. Washington Auto Road in 1988. However, it was not until 1995 that he also became a leader in the ski industry as manager of the brand new Great Outdoor Center. Glen Trails. Today, not only does the center have 45 km of trails, but Wemyss has also ensured that the Glen House Hotel, built in 2018, incorporates technology that makes it almost self-sufficient in energy and carbon neutral.
Jenks, who founded and operated Windblown XC in New Ipswich and received the Merrill Award from Ski NH in 2009, retired and closed the ski area in March 2020 after 48 years in business.
Jenks has been recognized for bringing skiing to thousands of cross-country skiers in the Monadnock area for nearly five decades and for his diligent work in creating an unparalleled skiing experience for his guests.
The late Peter Holland received the Lifetime Achievement Award at Ski NH.
The Lifetime Achievement Award was established in 1999 to recognize a member of the NH ski industry who has devoted much of his professional career to improving the NH ski area experience for customers. Previous recipients include Michael Berry, the late Phil Gravink, David Buckman and Bill Roy.
Holland was a longtime coach of the Pats Peak racing team who began his skiing career there as a ski instructor in 1980. His Lifetime Achievement Award was presented posthumously to his marries Roberta "Bertie" Holland, winner of the 2016 Whitney Award from Ski NH.
He has coached runners at Pats Peak, Waterville Valley, the Franconia Ski Club and Abenaki Ski Area, and was proud to have set up a two-day NHARA / Professional Ski Instructors of America training clinic for instructors and coaches from all over New England. to participate.
For more information on New Hampshire resorts, visit SkiNH.com.
Jessyca Keeler is Executive Director of Ski NH Conway.