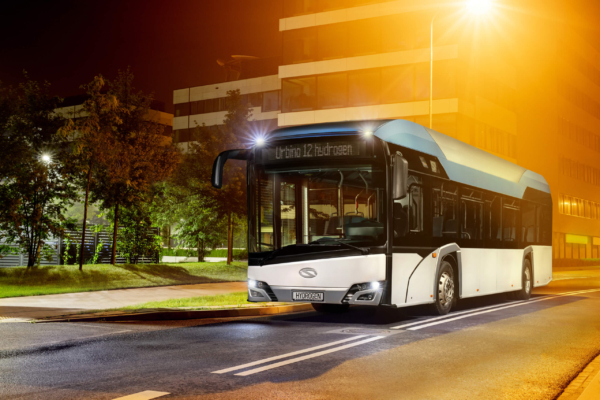 Solaris hydrogen buses ready for Neuenstadt am Kocher
Neuenstadt am Kocher, Germany is set to introduce green hydrogen public transport solutions to the city with Solaris showcasing its Urbino 12 hydrogen buses at Omnibus-Verkehr Ruoff.
To support the "H2 Impulse" initiative, Solaris presented its innovative hydrogen bus as a solution to support the decarbonisation of public transport.
This could enable Omnibus-Verkehr Ruoff to become a pioneer in zero emission public transport in the Heilbron region.
Read more: Solaris hydrogen buses will run on Swedish roads
Read more: More hydrogen bus deployments planned in Frankfurt, Germany
If adopted, the buses could be used in Heilbronn County, the city of Neustadt am Kocher, the municipalities of Hardthausen, Langenbrettach and Wirtschaftsfördergesellschaft Raum Heilbronn.
To demonstrate its use in daily transport, the Urbino 12 bus was used on the "KocherShuttle" express line from Neuenstadt to Heilbronn.
A hydrogen fuel cell installed in the Urbino 12 hydrogen acts as a micro-power station producing energy and directly supplying the vehicle.
A decisive factor in bringing green hydrogen transport to the city is that the German Aviation and Space Center (DLR) is already producing green hydrogen from wind power in the nearby Hardthäuser Wald .
Subscribe to our newsletter
Get all the latest hydrogen news, views and developments straight to your inbox.
Sign up for H2 View's weekly newsletter today so you don't miss a thing