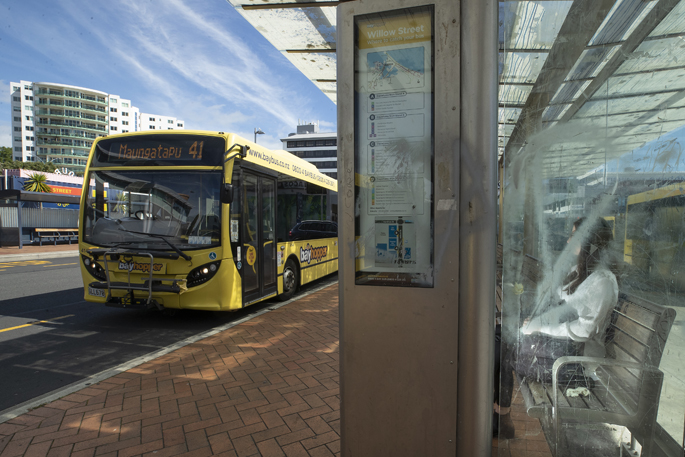 SunLive – Free bus fares capped after violence at bus stops
A wave of violence at bus stops in Tauranga, mainly instigated by young people, prompted the regional council to restrict free buses for under-18s.
During deliberations on the annual plan on Wednesday, Bay of Plenty Regional Councilors voted to restrict free rates from 7 a.m. to 9 a.m. and 3 p.m. to 5 p.m. for young people in Western Bay of Plenty, from 4 June.
Criminal and anti-social behavior at bus stops has been a problem for years and in 2020 security guards were put in place at the Willow Street interchange in the Tauranga CBD, Greerton and Farm Street in Mount Maunganui.
The most recent issue came on Saturday, when a man was attacked by a group of youths near the Farm Street bus stop. This is just one of many examples of antisocial behavior at city bus stops.
In May a young man was arrested for possessing a homemade taser at the Willow Street bus stop, there were assaults and aggressive and threatening behavior often targeting bus drivers.
Bus drivers have also threatened to boycott the Willow Street bus interchange after death threats and abuse.
These issues have prompted the police, NZ Bus, the company that operates the buses, and regional council staff to recommend limiting free fares for young people aged 18 and under to peak school hours.
A trial of free fares for all school-aged children traveling at all times has been in place since May 2021.
Clifford Paxton, Area Commander Western Bay of Plenty. Image File/SunLive.
Speaking in favor of the reduction, Western Bay of Plenty Area Commander Inspector Clifford Paxton said that since the free trial there has been an increase in problems.
"Since we have seen free buses become widespread, we have seen an escalation in anti-social behavior, especially among our young people.
"At the end of the day, these young people have the free field of the city.
"Their behavior has an impact on those who legitimately go about their business and the free buses allow all behavior to continue.
"Most of these young people don't have the money or the resources to move freely around the city.
"By preventing this movement, they will not have the ability to congregate, intimidate and offend those who are legitimately trying to go about their business.
"We need to prevent their ability to move around the city at will."
NZ Bus chief operating officer Jay Zmijewski said in his 22 years in the bus industry he had never seen the level of anti-social and criminal behavior Tauranga had experienced before.
He says abuse of drivers not only takes a toll on them, but also on the community, as bus services can be affected by a lack of driver availability.
"Drivers are often too shaken or injured to continue, often lasting more than a day."
Zmijewski also spoke of the constant vandalism on buses the company deals with.
"These young people cut our seats, burned our seats, burned flooring, melted window laminate and graffitied virtually every part of the bus.
"We have to repair vandalism in our buses daily.
"The crux of the problem is that the security guards no longer seem sufficient."
He says there needs to be a two-step approach that addresses broader social issues and a short-term solution.
"We really need in the short term to restore the confidence of drivers, so that they can stop and pick up people who are doing the right thing, just trying to get from A to B."
Zmijewski suggests initiatives where the police get on the buses or stop the buses and weed out any "troublemakers".
He says the reduction in free rates is "an effective short-term solution to at least slow down the number of incidents."
From June 4, free bus rides for school-aged children will only be available during peak hours. Photo: John Borren/SunLive.
Former security guard Chimmyma Kiora Williams describes the day-to-day reality of working at the Willow Street bus interchange
"Security in CBD is not normal security work, it is actually a type of social work."
Williams says this is because they deal with older people, people living on the streets, rangatahi (young people) aged 10-18 and the general public.
She says the security guards work with the police who are "very good" but they cannot always attend to incidents or attend to them quickly due to staffing issues or other incidents throughout the city.
"At the end of the day, if the police couldn't come and there was unrest, you were the security, you had to try to defuse, manage and help those who felt there was harm, to feel in security.
"It's going on a lot mentally, it's going on a lot physically and it's a lot of different social groups."
Williams says the security guards who work at the bus stop need authority to be able to move people and have the support of schools.
"A lot of these kids who are down the bus plaza show up in uniform.
"They don't go to school, they don't care about the law because in their minds they have less [being criminally convicted].
"We have to find a way to support them and encourage them to feel part of the community. [and] take responsibility for their actions. »
Williams says the youths often mingled with homeless people hanging out at the Willow Street bus interchange.
She says homeless people drink, take drugs, sniff glue and sometimes buy alcohol for young people.
"Young people will be attracted there and they will start to mingle with our adults there who may not be the best influence.
"Because these adults notice them, whether it's good or not, and these young people feel like they're part of something."
Williams says there's a group of about 15 youngsters who are causing a lot of trouble.
It supports the reduction of the free trial rate.
"I really believe that removing these [free] rates will make a positive difference.
Williams suggests making sure security guards posted at bus stops had the "right skills" to deal with problems, as well as giving them protective vests and body cameras for their safety.
The cost of security at bus stops is currently $600,000 per year, with the cost shared between Bay of Plenty Regional Council and Waka Kotahi NZ Transport Agency.
At the meeting, the board approved an additional budget for increased security, which is expected to cost around $200,000 per year.
Public interest journalism funded by NZ On Air.