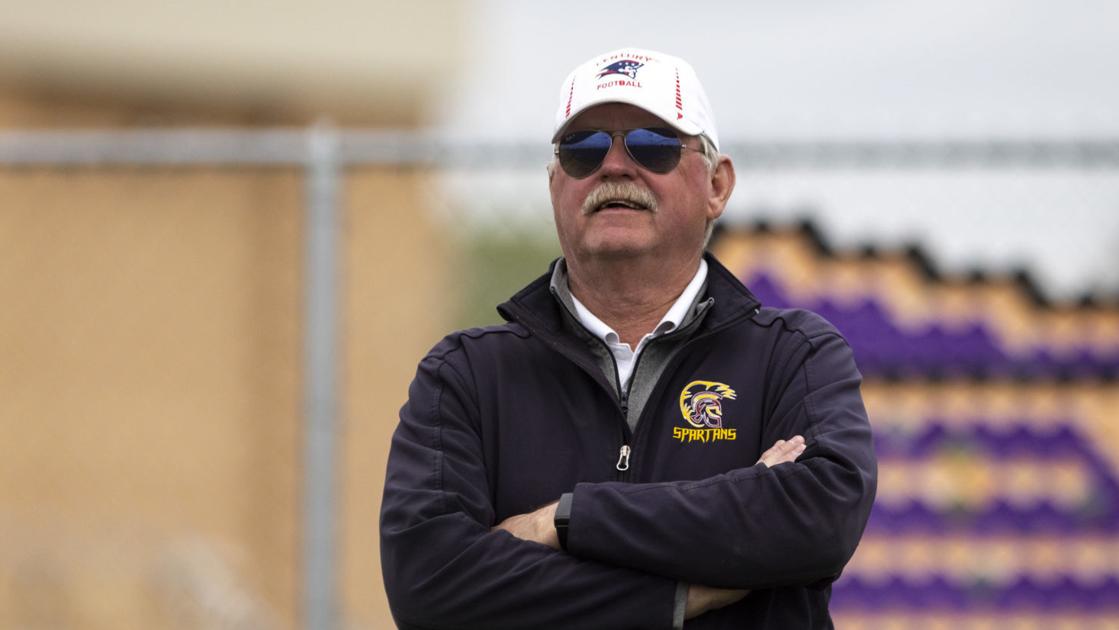 Three sports coach, administrator Dave Breitbach says goodbye to long career at Baker | High school
INVOICING – Dave Breitbach did not follow a specific plan for his distinguished career at Baker High School.
After graduating from Baker in 1975 and spending four years playing college football for legendary coach Hank Biesiot at Dickinson State in North Dakota, Breitbach embarked on a licensing agent stint in the industry. seismic activity to secure land contracts in the Rocky Mountain and Great Plains regions.
"Lots of money," he says. "Probably twice what I got paid for teaching. But I always came back wanting to be a coach and be with kids.
You can't put a price on the 36 years Breitbach spent affecting the lives of young people as a teacher, coach and administrator of the Spartans, during which he was an assistant coach for six state football championships and Baker's first men's basketball crown coach. in 30 years in 2000.
But the 2020-21 academic year is Breitbach's last. He's ready to hang up his whistle and step down as Baker's chief and athletic manager.
The past 14 months have been particularly difficult for Breitbach – and all educators – and he says now is the time to step away.
"I've been there for a long time," he says. "COVID has really tired me over the past year. I'm not very tech-savvy and things move quickly that way, especially in the classroom. It was difficult for me to follow what they were trying to do and to monitor things.
"As a sporting director, limiting the fans and eliminating the fans… it was difficult. It really was. Canceling games and trying to resume games… I even felt in my old age that I would always forget things, but I really felt like I was forgetting things there. It has been a lot of fun, without a doubt. But I was just tired. COVID just beat me up.
No one will blame Breitbach for walking away now, not when they consider all he has given.
Breitbach insists it was fair for the race at Baker in his biggest streak of athletic success, but his commitment to training three sports and creating a culture of hard work in the weight room, which seemed ahead of the curve. on its time, cannot be ruled out. .
By assisting Hall of Fame head coach Don Schillinger, Breitbach helped the Spartans build a Class B football dynasty with titles in 1999, 2001, 2003, 2004 and 2007. When Schillinger resigned after the season 2010 with six titles in total, Breitbach took over and guided the return-to-championship program in 2013.
"Donny was a great coach," said Breitbach, who was also an assistant track coach. "At the start of my career, we started bodybuilding classes and got them going. We had four or five weight classes a day when hardly anyone had weight classes. Everyone was part of it.
"I coached three sports and we all worked together. The athletes would stay with you from season to season. It was quite different from what it is today. I could be with these kids in the weight room all year round for years and years. You develop relationships and bonds. We had great athletes, great coaches, and great people.
One of Breitbach's toughest moments at Baker, without a doubt, was the death of Spartans star athlete Luke Gonsioroski in 2017.
Gonsioroski's story received national attention in 2016 when he had an eight-pound tumor removed from his chest. Quarterback, Gonsioroski returned to the football team this fall, but succumbed to cancer almost a year later.
"You just can't say enough good things about him and how he lived his life and what he stood for," Breitbach told The Billings Gazette and 406mtsports.com at the time.
Nonetheless, the good times have surpassed the hard times for Breitbach. Another highlight was the construction of a new football and athletics facility at the school in 2012, which Breitbach says has been of great benefit to the community.
Former baker Jace Schillinger was a member of the Spartans 'championship football team in 1999 and his basketball title-winning boys' team in 2000. It has been a whirlwind year for Schillinger and his senior colleagues, and Breitbach did not play a small part in it.
Head basketball coach Breitbach had his team train outside in the wind and cold on a college court on the day of his Class B title game, reviewing the sets and the games and screening of tonight's opponent, Cut Bank.
Unconventional? Sure. The result? A 65-47 Spartans victory.
"To have a football season like we did, that kind of basketball reporting," Schillinger said. "I'll be honest with you, and I think Dave would admit it: I don't think we were great basketball players, but we were a great team. It is an honor to Dave and the coaches he had around him. He could cause us to play hard. I'll say this: I'm not sure if anyone I worked with in sports in high school before is preparing like Dave does.
Schillinger added: "It's a sad day for Baker because he's sort of the last of those coaches who have been around for so long and who have been involved in all sports which is now such a rare thing. . He is in a way the last to have participated in all the championships. It's a sad day for Baker knowing that they are losing such a great educator and trainer. But he's also a really good person, and I think he had a way of raising the kids and being positive with them. He had a way where the kids really wanted to play hard for him.
When asked what he was going to do next, Breitbach said he plans to stay in Baker, where he will have more time to relax – and reflect on a lifetime of memories.
He deserved it.
"I don't know what I'm going to do," Breitbach said. "Maybe I'll play golf with Donny or he'll teach me how to fish or something." I don't have a plan. We'll see what happens. Where the wind blows, I'll let it take me.