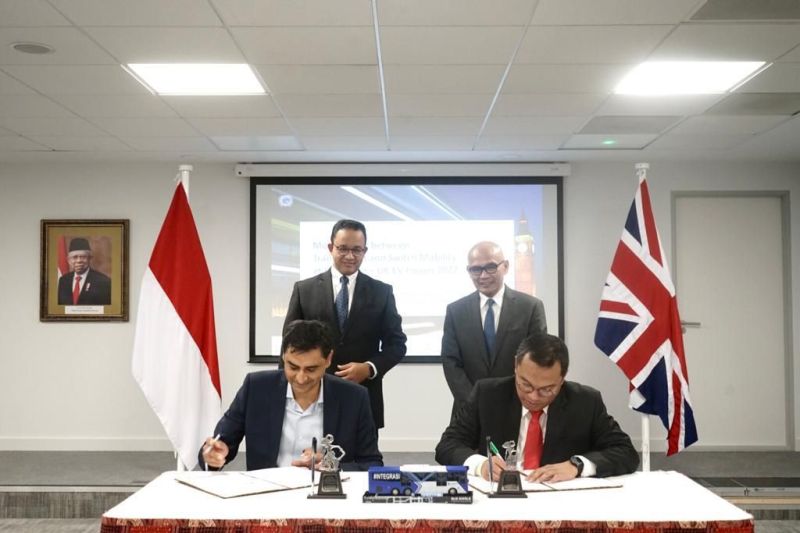 TransJakarta cooperates with a British company to provide electric buses
One of the important factors to achieve the goal is to decarbonise the transport sector.
Jakarta (ANTARA) – Region Owned Transport Companies (BUMD) PT Transportasi Jakarta (TransJakarta) on Friday in London signed a Memorandum of Understanding with British electric bus and manufacturer Switch Mobility Ltd.
"This shows TransJakarta's commitment to providing electric buses as a future fleet," Jakarta Governor Anies Baswedan said in a statement.
Baswedan expects that through this agreement, TransJakarta will have wider access to various electric bus suppliers, both locally and internationally, especially those in the United Kingdom (UK).
"He sees innovations in technology, funding and the UK supply model developing quite rapidly," he said.
Meanwhile, Chief Executive Officer of TransJakarta Mochammad Yana Aditya expressed his belief that the collaboration can help Indonesia achieve net zero emissions through the use of electric buses as a form of public transportation.
Aditya noted that the two sides are still at the stage of exploring cooperation.
The UK company is expected to test its buses for operation along the TransJakarta route in accordance with the testing and operational aspects of TransJakarta's applicable Minimum Service Standards (MSS).
"We want to ensure that customer demand for the operation of electric buses can be optimally met," said the CEO.
The test is expected to be carried out in the second quarter of 2023. If the test goes well, the transport service will continue to operate officially under the collaboration.
Aditya said that in line with the 2015 Paris Agreement, the government sets Indonesia's Nationally Determined Contribution (NDC) which aims to reduce carbon emissions by 29% through its own efforts and 41 % with foreign aid by 2030f as well as achieving net-zero emissions by 2060.
"One of the important factors to achieve the goal is to decarbonize the transport sector," he said.
His side expressed his belief that the target can be achieved due to the fact that the company's entire fleet of conventional buses will be replaced by electric ones in 2030.

Related News: TransJakarta Explores Green Bond Issuance on London Stock Exchange
Related News: TransJakarta extends free tourist bus services until May 11