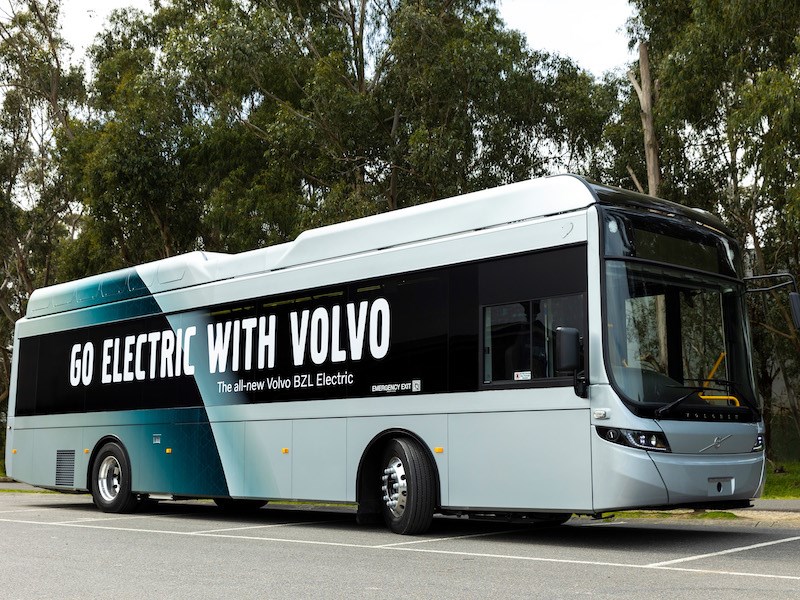 Volvo opts for hydrogen or electric buses
---
With recent announcements from state governments such as Victoria to transition to electric bus fleets, many businesses are now operating with a mix of hydrogen and electric buses. ABC takes a look at the difference between the two.
Volvo questions whether hydrogen or electric is better for the future of buses
The bus industry is leading the way in many ways as the world shifts to greener modes of transportation.
This should come as no surprise to those working in the industry – buses often run in city centres, around pedestrians and outdoor dining areas, so fleets' rapid transition to zero emissions will help governments clean up towns.
A number of governments are choosing to go electric, but many fleets are also using hydrogen, so which is best?
ENERGY STORAGE
A hydrogen engine works the same way as an electric bus, but it's in the way the energy is stored and harnessed that the two differ.
Hydrogen is a clear gas that can be harnessed in many ways including using fossil fuels, but when produced using renewables it is a green energy source .
Once produced, it can be transported in the same way as gasoline and pumped into the tanks of the bus to then be converted into electrical energy in a fuel cell.
This is where the two types become similar – the energy is then either used to power the bus or stored in a battery for later use.
An electric bus stores energy from a power source such as renewable energy or mains power in a battery which powers the driveline.
Both types of buses have similar powertrains or an "electric motor" that powers the vehicle.
SETTING UP
The transition of bus operators to a greener fleet requires a drastic change in infrastructure within depots.
Where a driver has traditionally left a depot to refuel at a service station, now much of the refueling will be done on site, either by hydrogen pumps or battery charging.
Mark Fryer, head of Volvo National Engineering and Bodybuild, explains some of the challenges companies face when switching to renewable energy.
"Hydrogen requires a higher installed cost for infrastructure due to the nature of the gas," says Fryer.
"There are many additional safety standards and requirements that must be met for this solution to be used in the depot. Plus, a lot of operator training because this solution is so foreign to most."
The electric solution requires a battery charger to complete the configuration. There is also a certain number of kilowatts needed to charge all the vehicles that must be taken into account, the question being whether the network is sufficiently supplied?
"How can we best use solar power to charge vehicles? Does the depot need storage batteries? These are all questions operators need to ask themselves," says Fryer.
For operators on long-haul routes such as Melbourne to Canberra, there are a number of considerations they need to take into account when considering a move to an eco-friendly bus fleet.
A recent announcement from the state governments of Queensland, New South Wales and the State of Victoria may provide a solution to this problem.
In March, the governments of the three states announced a historic memorandum of understanding to install a hydrogen fueling network along the eastern seaboard.
Dr Fiona Simon, CEO of the Australian Hydrogen Council (AHC), said the announcement was an exciting time for the AHC.
"Collaboration between these three states will facilitate the adoption and use of hydrogen as a fuel for heavy transportation along the eastern highways," she said.
Although recharging an electric bus can cause a lot of downtime, especially on a long trip, the grid or hydrogen pumps along the east coast can solve this problem.
The challenge operators face is the range of each vehicle, as more time spent loading and not transporting customers will increase costs.
Mark Fryer explains some of the challenges that each form of renewable energy poses to those considering using them.
"Hydrogen allows you to carry more usable energy than an electric but, in electric, 25% of the energy is wasted whereas, in hydrogen, 75% of the energy is wasted," he says. he.
ELECTRIC ATTRACTION
It looks like state governments are looking to electric buses for city center bus lines with a number of recent announcements demonstrating where governments are looking at the future of buses for city center lines.
The Victorian Government will deploy 41 buses across five different networks across the state to help Victoria reach its goal of net zero emissions by 2050 in a landmark trial.
Public Transport Minister Ben Carroll spoke of the importance of rolling out electric buses.
"Trialing the electric bus will be instrumental in our transition to a more environmentally friendly and sustainable transport network.
"Creating a greener fleet is part of our bus plan to develop a more modern and reliable network that will attract more people to the convenience of buses," Carroll said.
The Queensland Government recently opened the first all-electric bus depot on the Gold Coast, with 100% of the energy used to charge the buses coming from renewable sources.
Using solar panels in depots appears to be an effective way to make fleets as green as possible.
Electric bus fleets are essential for governments aiming to achieve zero or net zero emissions goals.
Queensland State Government Minister for Transport and Trunk Roads Mark Bailey said he was building on the state government's recently released zero-emission vehicle strategy.
"We are committed to having every new bus in South East Queensland be zero emissions from 2025, so to see it happening now is a fantastic achievement," Bailey said.
Mark Fryer explains that, for operators, it is not a simple either/or decision, but something where they have to establish the needs of the business.
"I think each operator will have to make their choice based on their local factors, including the power available to charge the batteries, the cost of the infrastructure, and the route requirements, including range," he said. he declares.
For Volvo, when helping a customer choose the option that's best for them, they take a hands-on approach.
"It's always the customer's choice, but we can do full simulations on the route to make sure the electric product is suitable for that route," says Fryer.
"We also have the flexibility to increase or decrease the number of batteries for the customer to ensure their route requests can be met."
While the shift to renewable energy on the roads is an exciting time for the industry, it presents a number of challenges and the years to come will be important for the survival of these energy sources.
Subscribe to our newsletter
Sign up to receive the ABC e-newsletter, digital magazine and other offers we choose to share with you directly to your inbox
You can also follow our updates by like us on facebook.