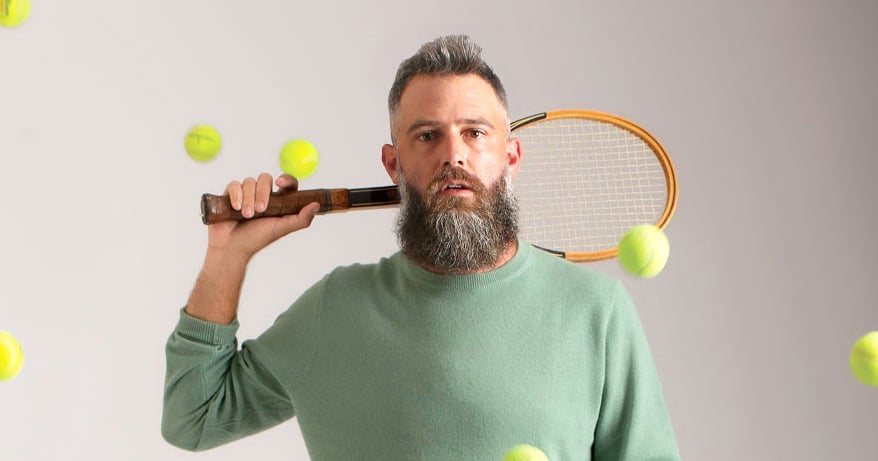 We love the distinguished look of model and tennis coach Jared Carstenn
"BDIY is the new trend! Jared Carstenn said with a big smile. His happy vibe and badass beard are fun to have on our shoot where tennis balls and jokes are thrown around. In the shoot, we try to capture the distinguished and dignified side of the 37-year-old, who is considered a "mature" model, but his energy bursts, just as it breaks through the barrier of ageism in the industry. .
"If I get to play the role of the oldest in this world, I'd be happy about it, because when I was young, the guardians of cool didn't always offer that opening," he laughs. The tennis coach did a few modeling gigs for sports brands in his early 20s – his first shoot was with Asics at the Kailua Racquet Club – but the bulk of his bookings came about a decade later, mostly shop owners and creative friends in his neighborhood. .
"Working with local boutiques, like Oliver Men's Shop, was great because their reach extends to a national and international audience," he says. "I believe with this energy of inclusivity, there are only more jobs to come." As an "elder", he gives advice to the next generation: "The greatest energy during a shoot, an advertisement or an interview comes from the connection between the people involved. Have fun, be a friend and people will want to work with you. We can't wait to see this ace again.
---
"Being yourself is the new trend!"
---
Cashmere round neck sweater, $128, Stone Island swim shorts, $190, Saks Fifth Avenue, International Market Place, (808) 600-2500, saksfifthavenue.com. Polka dot cotton socks, $14.50, Reebok Club C sneakers, $70, J.Crew on the Island, Ala Moana Center, (808) 949-5252.
Hudson Jeans Trucker denim jacket, $315, Italian knit jacket, $798, Balmain t-shirt, $495, Off-White nylon appliqué track pants, $650, Off-White towel rack, $350, Saks Fifth Avenue. Off-White belt bag, $605, Neiman Marcus, Ala Moana Center, (808) 951-8887, neimanmarcus.com.
SEE ALSO: Spring Fashion Feature: Meet Kaua'i's Curvy Catwalk Model Kiani Souza